How to configure ABB robot controller with Gocator
With ABB controllers EDS file configuration is possible with some of the newer controllers. On some older ABB controllers, the EDS file will fail when it is attempted to be installed. Gocator EDS files can be downloaded on the output page on the Gocator sensor GUI. You must switch the protocol to EtherNet/IP to see this option.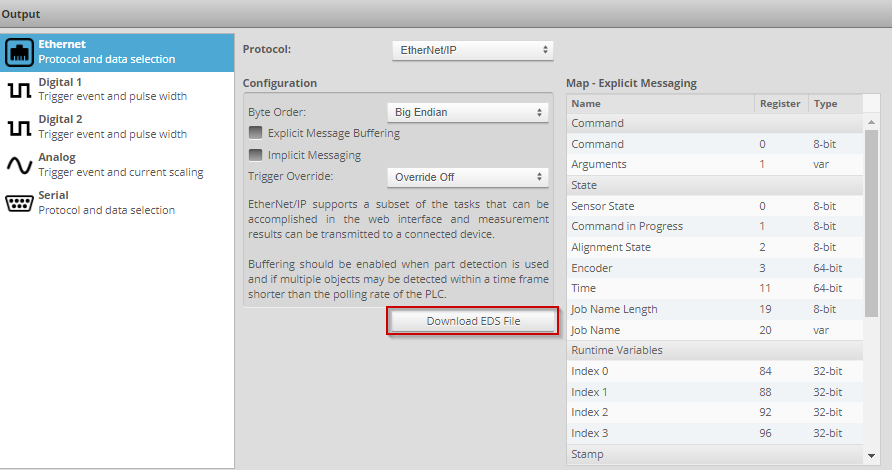 What is an EDS file?
https://www.automationdirect.com/microsites/productivity/software/help/Content/283.htm#:~:text=An%20Electronic%20Data%20Sheet%20(EDS,specific%20EtherNet%2FIP%20Adapter%20device.
On the ABB side of things, these are the settings you will want to configure in the instance editor. Set the sensor IP accordingly.
If you are curious why these are the correct values to set please see our Gocator EtherNet/IP documentation attached below.
https://d3ejaiy6gq5z4s.cloudfront.net/manuals/gocator/gocator-6.1/G2/Default.htm#Protocols/EtherNet_IPProtocol/EtherNet_IPProtocol.htm?TocPath=Integrations%257CProtocols%2520(PLCs%2520and%2520other%2520hardware)%257CEtherNet%252FIP%2520Protocol%257C_____0