Question
There is a lot of noise in my scan. Why?
Answer
There are many reasons why you might have noise in your scan data. Such as:
You are scanning a reflective part or the material of the part is difficult to scan.
Exposure parameter is set too high or multiple exposures are improperly set.
Ambient light over-exposing the target.
Dust or particles in the air causing floating points in data.
To reduce the noise in your scan data, you should first put the sensor in video mode. Observe the imager as you scan your target material to get a better idea of the source of the noise. Select the gears button in the top right corner of the visualizer to turn on exposure, spots, and dropouts.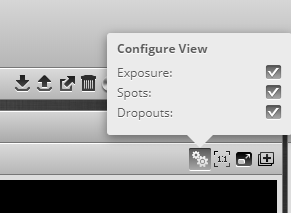 This will show over-exposed areas, dropouts, and valid points calculated by the sensor. Adjust the exposure parameter to optimize the scan data.
For advanced users, experiment with the advanced parameters to better optimize the data quality.
See the manual for a description of the advanced parameters.